Heritage Unbound – 30 restorations in 30 years of democracy
The exhibition is prepared for the 30th anniversary of the Velvet Revolution.
The cultural heritage, neglected for decades, belonged to the worst outcomes of the Communist regime, together with devastated nature and landscape. A hundreds of decaying, poorly renovated or even deliberately ruined heritage sites proved the uncultured nature of "real socialism" and presented us with a great challenge. The year 1989 removed the bounds of unfreedom and long-standing lack of interest and resources from our historical and cultural heritage. However, this liberation also meant a great obligation; in outright terms it's worth hundreds of billions, but its true nature is invaluable. That's because it includes vast amount of work and effort, as well as our links to our past, to the towns and landscape we've inhabited, and to ourselves, as a national or European community.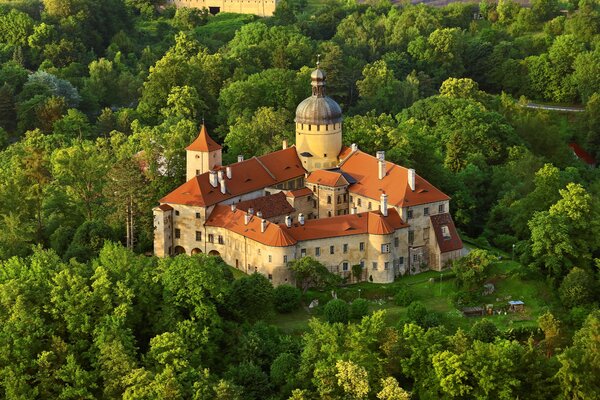 This exhibition looks back at these thirty years, and shows how we rose to the challenge. We have deliberately focused on positive examples, so the exhibition presents 30 renovated heritage sites representing 30 different heritage types and problems. In these 30 examples, our cultural heritage got truly rid of its bounds, and started a new life. In our opinion, it's right to present the successful heritage care projects even if we keep in mind all losses and compromises we've seen in the last thirty years. This way, we can point out good examples to follow, and see possible future ways to remove the bounds of uncultured approach and indifference, which may never fully disappear in any regime.
Idea and project guarantor: Naďa Goryczková
Texts by Jakub Bachtík, Ondřej Belšík, Alena Borovcová, Ladislav Buchta, Irena Bukačová, Pavel Bureš, Veronika Cinková, Kamila Davidová, Eva Dvořáková, Stanislav Flesar, Robert Gája, Martin Gaži, Naďa Goryczková, Petr Hasil, Petr Hrubý, Pavel Jerie, Karin Kahancová, Michal Klíma, Miloš Krčmář, Lenka Křesadlová, Jana Kurešová, Václav Paukrt, Lucie Radová, Romana Riegerová, Michaela Ryšková, Tomáš Sedláček, Miloš Solař, Zdeněk Vácha, Radek Vlach, Miroslav Záškoda, Jan Žižka
Editors: Jakub Bachtík, Karolina Krejčiříková
Photographs of the current conditions: Martin Micka and Ladislav Bezděk, Gabriela Čapková, Chrisula Hekelová, Petr Kříž, Karel Kuča, Kateřina Neumannová, Petr Oškera, Václav Podestát, Roman Polášek, Václav Sidorjak, Libor Sváček, Věroslav Škrabánek, David Židlický
Historic pictures: Photography collection of the National Heritage Institute, Headquarters (Ladislav Bezděk, Eva Dvořáková, Vladimír Hyhlík, Jan Lebeda, Orbis, Čestmír Šíla), Regional centers in Brno, Loket, Olomouc (Chrisula Hekelová), Pardubice (Veronika Cinková), Telč, Ústí nad Labem (Roman Kursa), management of Castle Grabštejn, management of Chateau Kynžvart, Czech Philharmonic Orchestra, ČTK, collection of Jindřich Holub, Mining Museum Příbram, Michal Klíma, Museum and Gallery of the North Pilsen Region in Mariánská Týnice, Brno City Museum (David Židlický), Art Museum Olomouc, National Museum, Prácheň Region Museum in Písek (Václava Komasová)
Graphic design: Barbara Zemčík
Production of the exhibition: Tamara Hegerová, Lenka Lokvencová
Special thanks: Letná Water Tower
Duration of the exhibition: November 14 to December 9, 2019