---
Šindel – tradiční střešní krytina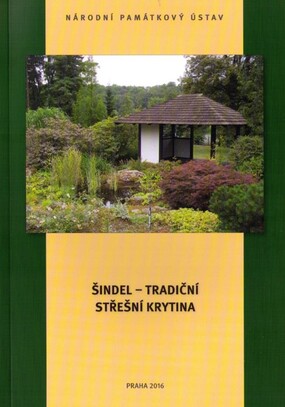 printed-publication
60 Kč
Out of stock
Odborné a metodické publikace, svazek 85
Metodika je zaměřena na zdokumentování tradiční dřevěné šindelové krytiny užívané v českých zemích z hlediska jejich tradiční výroby a provádění pokrývky střech a stěn šindeli. Metodika předkládá poznatky z výroby šindelů, a to již od výběru vhodného materiálu. Smyslem metodického materiálu je předat zkušenosti a tradici provádění šindelové krytiny k budoucím realizacím, jako stručný informační základ. Tato metodika se zabývá výlučně šindelovou krytinou, tj. šindeli štípanými, nikoliv šindeli vyrobenými řezáním, hoblováním nebo způsobem frézovaní. V těchto případech (mimo štípání) dochází při výrobě k přerušení průběžných rostlých vláken prvku, což umožňuje vzlínání vody a vlhkosti mezi vlákna dovnitř šindele. Následně tak dochází k biotickému poškození hnilobou a to vede k podstatnému zkrácení životnosti prvku. Metodika zřizování a výroby šindelových krytin připouští pouze tradičně vyrobený prvek štípáním a ručním strouháním po vláknech.
Informace a případná doporučení uvedená v této metodice je možno využít jak při obnovách a sanacích různých typů nemovitých kulturních památek (budovy, vedlejší objekty, stavební úpravy), tak i pro soudobou výstavbu, která je realizována v plošně chráněných památkových územích. Lze ji využít též v lokalitách chráněných krajinných oblastí, kde je používání tradiční střešní krytiny vyžadováno s cílem uchovat krajinný ráz a tradiční architektonické hodnoty krajiny.
Metodika je určena pro široký okruh zájemců, především pro vlastníky a správce památkových objektů, projektanty, pracovníky památkové péče a specialisty, dále jako informační podklad pro výrobu a montáž šindelů. V neposlední řadě je určena též pro studenty a další osoby vstupující do procesu péče o naše kulturní dědictví.
---
You might be interested in