---
Cultural Monuments of the Ostrava-Karviná Coalfield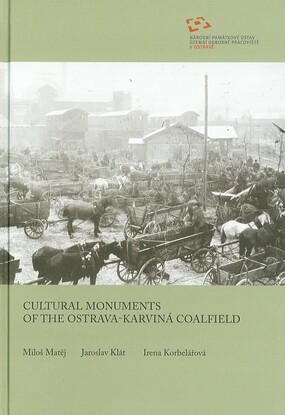 The publication Cultural Monuments of the Ostrava-Karviná Coalfield aims to provide an overview of collieries and mining technology protected by law under Act no. 21 / 87 on state heritage conservation and listed as cultural monuments or national cultural monuments. In order to explain the technical, historical and architectural importance of these sites and equipment – and to illuminate the interconnections among the region's collieries – the publication also contains descriptions of local geographical and geological conditions, an overview of the history of mining and mining companies, an account of the technical and architectural developments that affected the coalfield, and a summary of the guiding principles of heritage conservation.
These accompanying texts are included because they help to place the main part of the publication – the catalogue of cultural monuments – in its wider context, illuminating the importance of the region's collieries and the relevance of the sites to the development of the local mining industry.
Heritage conservation work with collieries and technical equipment in the Ostrava-Karviná coalfield is based on the evaluation of the surviving heritage sites that bear witness to the region's mining history – ranging from the early beginnings of mining activity (the establishment of the Jaklovec main adit) to the first wave of mine closures in the 1960s. This evaluation is carried out by means of systematic archival study and field research by mining experts, historians and heritage conservation workers.
Contents:
INTRODUCTION 9
DESCRIPTION OF THE OSTRAVA-KARVINA COALFIELD 13 Territory 13 Geology 14
HISTORY OF MINING IN THE OSTRAVA-KARVINÁ COALFIELD 15
The beginnings of mining and the discovery of coal deposits 15
Shallow mining 17
Deep mining 19
The beginnings of deep mining 19
Western part of the coalfield (Ostrava) 19
Eastern part of the coalfield (Karviná) 21
The growth of deep mining in the last quarter of the 19th century and the early 20th century 23
The First World War and the period up to the Second World War 25
The Second World War 25
The nationalization of the collieries and post-war developments 27
Limited mine closures and subsequent rise in production levels 28
Extensive mine closures 29
The history of conservation work and the care of industrial heritage 30
TECHNICAL AND ARCHITECTURAL DEVELOPMENTS 35
Drift mining 35
Shallow mining 36
Deep shaft mining 37
Mechanization 38
Vertical transportation and winding engines 38
Compressors 44
Pit-head buildings 46
L-shaped pit-head buildings, i.e. complexes with an L-shaped ground plan 46
Linear pit-head buildings with an I-shaped ground plant 46
Central (T-shaped) type pit-head buildings, with a symmetrical ground plan in the shape of the letter T 46
Winding towers (headframes) 46
Brickwork or masonry winding towers 49 Pyramid-shaped winding towers 49
English-type strut-supported winding towers (English support) / Tomson support 50
German-type strut-supported winding towers 51
Individual winding tower designs 51
Winding towers with raised engine rooms 52
Central shafts 52
The engine hall as the central feature of the site 54
The development of architectural design 56
ENTREPRENEURS AND MINING COMPANIES 59
Archbishopric of Olomouc (Olmutz) 59
Austrian Alpine Mining Company 60
Austrian state / Imperial and Royal Prospecting and Boring Commission 61
Bludovský family 61
Chamber of the Těšín Estates / Chamber of the Estates of the Těšín Principality / Coal Mines of His Imperial Majesty Archduke Albrecht 61
Doubrava and Orlová Coal Mining Company 63
Doubrava-Orlová Mining Company 63
Eichendorf, Johann Friedrich 63
Geymùller, Johann Heinrich 64
Grutschreiber, Johann Adam 64
Gutmann, Wilhelm, David, Max 64
Handwerk, Franz 65
Harrach, Franz Ernst 66
Hesse, Josef and Sahl, Samuel 66
Klein, František, Albert, Libor, Hubert 67
Laryš / Larisch-Mônnich, Jan Florian Erdman, Jan Václav, Heinrich (senior), Johann, Eugen, Heinrich (junior) / Coal Mines of His Excellency Count Johann Larisch-Mônnich / The Count Larisch-Mônnich Coal and Coke Works, Karviná 67
Magerle, František / Magerle & Co. Mining Company 69
Marie Anna Coal Company / Marie Anna Moravian Ostrava Coal Company 69
Mattencloit, Anton, Nicolaus 69
Miesbach, Alois and Drasche, Heinrich 70
Mining and Iron Company / Austrian Mining and Iron Company / Mining and Iron Company 70
Moravian Ostrava Coal and Coke Company 72
Northern Ferdinand Railway / Exclusively Privileged Northern Railway of the Emperor Ferdinand / Imperial and Royal Exclusively Privileged Northern Railway of the Emperor Ferdinand / Coal Mining Company of the Imperial and Royal Exclusively Privileged Northern Railway of the Emperor Ferdinand 72
Orlová-Lazy Coal Mining Company 73
Orlová-Lazy Coal Mining Company / Gorgosch & Co. / Orlová-Lazy Coal Mining Company 74
Ostrava Mining Joint-Stock Company, formerly of Prince Salm 74
Ostrava-Karviná Mining Company (OKBS) / Coal Mines of His Excellency Count Eugen Larisch-Mónnich, Petřvald / Heinrich Mining Company of Count Eugen Larisch-Monnich, Petřvald / Ostrava-Karviná Mining Company / State Mining Directorate in Porubá, Orlová 75
Ostrava-Karviná Mining Corporation (OKD) 75
Reibnitz, Ernst Wilhelm 76
Rothschild, Salomon Mayer, Anselm Salomon, Albert Salomon 76
Salm-Reifferscheidt, Hugo Karl, Hugo Karl Franz, Hugo Leopold 77
Stacker von Wayersdorf, Hubert 78
Thomke, Georg 79
Vítkovice Coal Mining Company / United Vítkovice Coal Mines 79
Vítkovice Mining and Iron Company 79
Vítkovice Mining Company / Vienna Mining Company 80
Vladimír Vondráček & Co 81
Vondráček, Ignác, Vladimir 81
Wilczek, Franz Josef, Stanislav, Johann Nepomuk Maria / Coal Mines of His Excellency Count Johann Nepomuk Wilczek / Count Wilczek Coal Mines and Coking Plant in Polish Ostrava / Count Wilczek Ostrava Coal Mines and Coking Plants 83
Zwierzina, Josef 83
Zwierzina Mining Company / Zwierzina Coal Mining Company 84
Žerotín, Zdeněk, Otto 84
Žofie Mining Company, Poruba 85
CATALOGUE OF CULTURAL MONUMENTS OF THE OSTRAVA-KARVINÁ COALFIELD 87
Dolní Suchá, Emperor Franz Josef / Suchá / Dukla Colliery 87
Hrušov, Hubert / Stachanov Colliery / Site No. 3 91
Hrušov, Ida / Hoffnungsschacht / Generalisimus Stalin 1 / Red October I Colliery 95
Hrušov, Vrbice ventilation shaft 98
Karviná-Doly, Austria / Barbora / Pilsudski /1st of May / Barbora Colliery 101
Karviná-Doly, Gabriela / UNRRA 1 / Mír (Peace) 1 / Gabriela Colliery 106
Karviná-Doly, Colliery no. VI / Gabzdyl / Jindřich Colliery 110
Kunčičky, Alexandr Colliery 113
Michálkovice, Imperial and Royal Colliery no. 3 / Michal / Petr Cingr Colliery 119
Moravská Ostrava (Moravian Ostrava), Hlubina / Laušman / Hlubina Colliery 125
Moravská Ostrava (Moravian Ostrava), Colliery no. X / Jindřich Colliery 133
Moravská Ostrava (Moravian Ostrava), Jiří Colliery 137
Nová Ves, Ignát no. 3 / Jan Šverma no. 3 ventilation shaft 140
Petřkovice, Anselm / Petershoffen I-IV / Masaryk 1 / Eduard Urx Colliery / OKD Mining Museum 142
Petřkovice, Oskar / Petershoffen V-VI / Masaryk II / Lidice Colliery 150
Petřvald, Habsburg / Pokrok / Fučík I Colliery 153
Poruba, Colliery no. I / Alpine / Václav / Czechoslovak Pioneer Colliery 157
Přívoz, Odra Colliery 160
Slezská Ostrava (Silesian Ostrava), Jan Marie Colliery 163
Slezská Ostrava (Silesian Ostrava), Jan Nepomuk / Jan Michaeli / Michálka Colliery 166
Slezská Ostrava (Silesian Ostrava), Terezie / Bergschacht / Petr Bezruč Colliery 170
Slezská Ostrava (Silesian Ostrava), Holy Trinity / Trojice (Trinity) Colliery and Conical Spoil Tip 175
Slezská Ostrava (Silesian Ostrava), Conical spoil tip of the Trojice Colliery and Coking plant / Emma-Lucie Colliery slag heap 178
Sviadnov, Stařic 1 Sviadnov Colliery 180
Vítkovice, Nová jáma (New shaft) / Louis / Steinbóck / General Jeremenko / Marshal Jeremenko Colliery 182
LITERATURE AND SOURCES 187
Literature 187
Sources 195
---
You might be interested in